St. Charles Chiropractor | Dr. Joseph Di Carlo
My first experience with chiropractic was for headaches that I had been suffering from for years.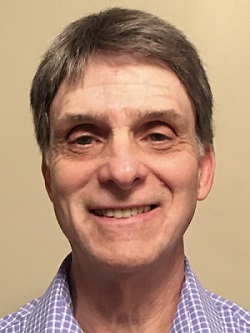 I was 26 years old and fed up with my ever-present headaches, for which no one had an answer other than, ".. take medications or learn to live with them." My best friend, Mike, had moved to St. Louis to go to Logan College of Chiropractic and told me that my headaches sounded like a chiropractic case. So on his recommendation, I found a chiropractor. By my fourth adjustment in the course of 8 days, the headaches that had been bothering me for years had stopped. Now, anytime I feel a headache coming on (which rarely occurs because I have chiropractic care weekly), I visit my chiropractor.
My reason for deciding to choose chiropractic as a career was not because of any miraculous health-care event, though I did get some great results from chiropractic. I chose chiropractic because I thought it would be a great way to continue contributing to the welfare of others. You see, before becoming a chiropractor, I used to teach elementary school which allowed me to help and contribute to the lives of others. Chiropractic just seemed to be a good way to continue in this endeavor.

On a personal note…
My wife, Debbie, and I have have three lovely children, Kris, Steve and Danielle. Steve and Kris are twins. Each of them has a BS in Business. Both of them chose a career in which they train, show and sell horses. Kris and Steve live in Florida.
Steve and his wife, Tania, own  and run Bench Mark Equestrian. They have one child, Alex. Kris and his wife, Renessa, own Kris Di Carlo Equestrian. Renessa is an elementary school teacher They have on child., Alliana.  My daughter, Danielle,  lives in St. Charles, and works at Vetta Sports as their Youth Programs Director. She has a BS in food service management and an associate degree in culinary arts. However, she is an avid soccer player which led her to work at Vetta Sports.  Danielle has one child, Graham.
I am a musician at heart. I was originally going to teach music after I graduated from college. My major instrument was the trumpet. But, during my senior year of high school, I was kicked in the mouth during a game of soccer. This would have a devastating effect on my trumpet playing career a few years later in college when I practiced and played for hours a day to perfect my craft. Being a trumpet player and having your two front teeth kicked in and chipped really tends to put a damper on your playing ability.
Now, rather than playing my trumpet, I play the piano quite frequently. When I was a young kid I played the accordion. I even played it in a high school rock band, believe it or not. But it had modifications that made it sound like an organ.
Chiropractors need chiropractic care too!
I like to practice what I preach. So it's important for you to know that I have chiropractic care at least once a week. Working with patients who are hurting tends to put stress on me, both physically and mentally. Were it not for my weekly chiropractic care, I would be unable to function fully and meet the needs of my patients.
In addition to my chiropractic care, I workout two times a week, eat properly, take whole food supplements and have a positive mental outlook on life. I am a true believer that you are what you eat and you receive what you think about most. I know that your thoughts today create your life tomorrow. As such,  I focus on the good things in life and try not to dwell on the negative.
Thanks for visiting our site. I look forward to meeting you in person and learning how we may be of service to you. Call our St. Charles chiropractic office to get started with chiropractic care today!
---
Chiropractor | DiCarlo Chiropractic Center | (636) 949-5700